Han's Robot, a global leader in intelligent robots, has integrated its Elfin collaborative robots into automation to revolutionize auto parts production. By incorporating advanced robotic technologies, Han's Robot aims to improve efficiency, accuracy, and productivity in the manufacturing process.
In the automotive industry, the protection level of waterproof connectors is generally required to reach IP68, Since it's essential for reliable connections and signal transmission in vehicles. Each waterproof connector should pass air tightness testing during production to ensure it meets all the standards.
Traditionally, manual inspection methods have been time-consuming, labor-intensive, and prone to errors. However, by applying Han's Elfin collaborative robots to complete air tightness testing, the production line can be automatically upgraded, improving the efficiency of inspections and other operations while enhancing production efficiency.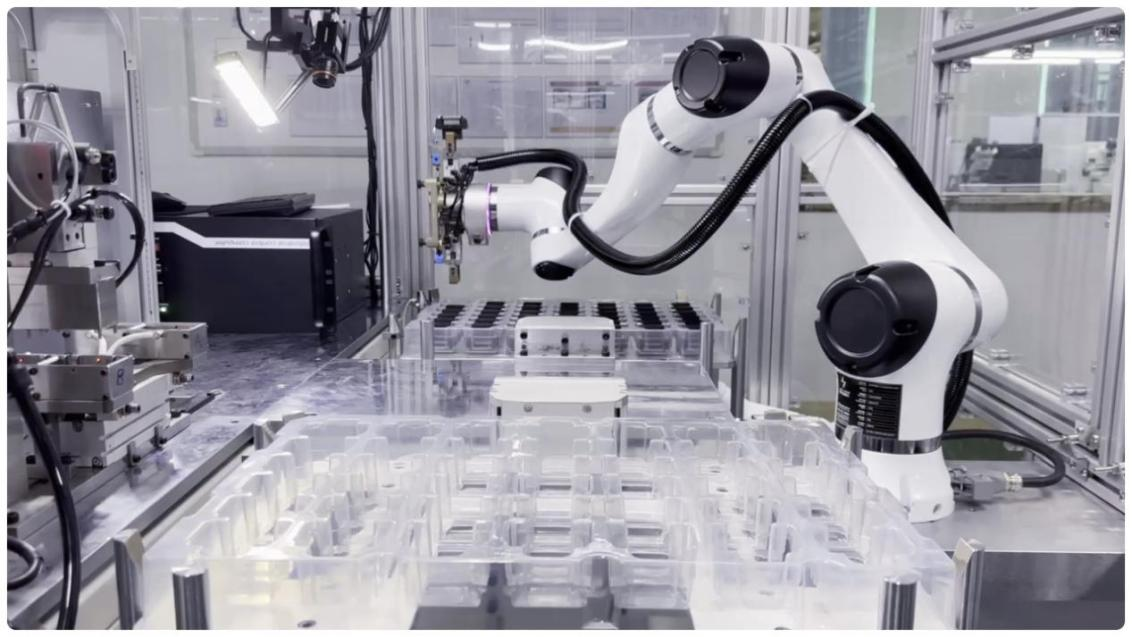 Han's Elfin collaborative robot can easily detect the air-tightness of 2,000 automotive waterproof connectors daily through human-machine collaboration. Moreover, the robot can use laser equipment to simultaneously perform operations such as QR code marking and 3D visual scanning inspection on the workpiece, completing the entire process in 30 seconds. Most importantly, the detection accuracy of these robots surpasses manual inspection, fully meeting the production requirements of enterprises.
Han's Robot has significant advantages in supporting enterprises with automated production. Firstly, the Elfin collaborative robots have a high repeat positioning accuracy of up to ±0.02 mm, enabling precise operations such as gripping, placing, inspecting, laser marking, and more to ensure consistent finished products. Secondly, the user-friendly graphical programming operation greatly facilitates the utilization of Elfin collaborative robots, allowing even non-specialized workers to acquire basic operation skills quickly.
Overall, Han's Elfin collaborative robots offer precise and efficient automation solutions, optimizing efficiency in the automotive industry to ensure consistent product quality. In automobile manufacturing and related industries, Han's Robot has been widely applied in various applications such as automotive painting, polishing, screw locking for engines or other components, material handling, glue application for car lights, automatic rust removal for tire molds, assembly and marking. Furthermore, Han's Robot's rich experience in automation and flexible production has enabled the company to optimize operations across diverse fields, solidifying its position as a trusted industry leader.