According to the China People's Daily Online report, Shenzhen Han's Robot Co., Ltd. has independently developed and achieved large-scale production of the first intelligent maintenance robot for vehicle roofs in China. The R&D team stated that the creation of this robot represents a significant breakthrough in the maintenance and inspection of rail transit vehicles, and it is also a typical solution of artificial intelligence empowering robotics development.
Generally, engineers are required to make daily safety inspections on vehicles to ensure their safe operation. During vehicle roof maintenance, the inspector faces various high-risk situations, including electric shock, falling from heights, the risks of leaving tools behind, and equipment inspection oversights. Han's intelligent maintenance robot is mainly applied for rail transit maintenance. It provides highly stable and precise performance, enabling frequent routine inspections of vehicle roof electrification equipment and ensuring vehicle operation safety.
Moreover, the robot can intelligently and automatically clean the equipment on the vehicle roofs. It has the capability to automatically replace air conditioner filters and detect the pantograph and air conditioning status. Compared to manual work, the unmanned maintenance robot possesses several advantages, such as strong stability, high precision, and long-term continuous operation. Additionally, the robot eliminates the need for maintenance personnel to expose themselves to dangerous environments, thus enhancing maintenance efficiency.
Unlike traditional robots, Han's intelligent maintenance robot does not just simply execute program instructions. Instead, it incorporates artificial intelligence technology to autonomously learn various related data of the vehicle roof maintenance, and finally achieves automatic perception of the environment, identification of problems, and active selection of the optimal solution for flexible handling of malfunctions.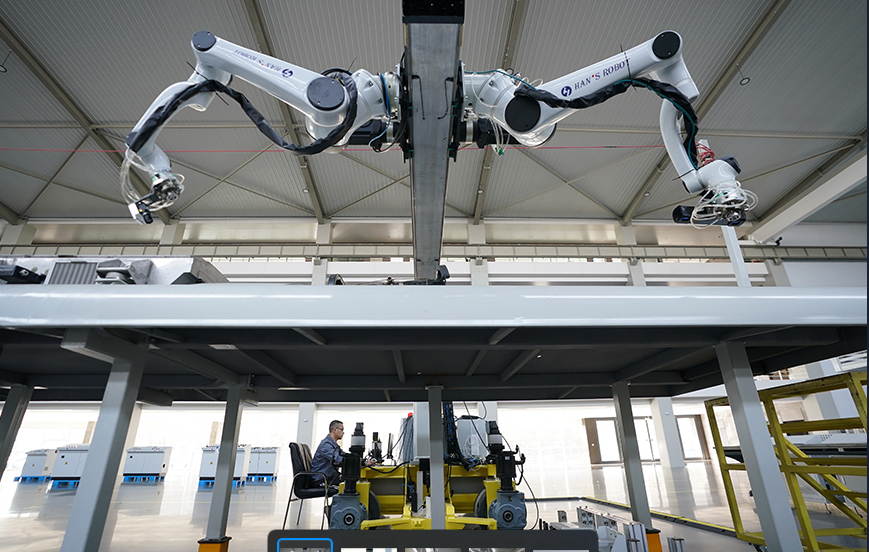 About Han's Robot
Han's Robot is the leading company in the field of collaborative robots in China, with strong independent research and development capabilities. Currently, Han's Robot's products have been deployed in over 100 countries and regions worldwide, catering to the needs of customers in automobile manufacturing, 3C electronics, healthcare, logistics, and education. Please click the YouTube link below for more information about Han's intelligent maintenance robot.
Media Contact
Company Name: Shenzhen Han's Robot Co., Ltd.
Website: https://www.hansrobot.net/
Telephone: 400-852-9898
Email: hansrobot_international@hanslaser.com
YouTube: https://www.youtube.com/watch?reload=9&v=12rClTG8Cc8&feature=youtu.be