Welding technology is widely used for processing metal materials in manufacturing. Its application scope is extensive, encompassing household appliance production, automobile manufacturing, aircraft and ship construction, and even aerospace equipment.
High-tech company Han's Robot specializes in collaborative robots and has developed the Automated Welding Workstation (Gas Shielded Arc Welding) Application Solution. Centered around the Elfin-Pro series collaborative robots, it seamlessly enables efficient welding techniques.
Han's Robot's Automated Welding Workstation (Gas Shielded Arc Welding) boasts the following features:
Drag-and-Drop Teaching
The Elfin-Pro supports integrated end force control, allowing users to easily and swiftly drag the welding torch to the designated welding point. With the end button, they can quickly establish a welding task, complete circular/linear path selection, and set up arc starting/stopping. The drag-and-drop feature is reusable.
Laser Vision Seam Tracking
The laser vision seam system corrects welding deviations in real time, maintaining the welding gun's alignment with the seam during movement and ensuring automated seam tracking for improved welding quality.
Arc Tracking




An arc tracker collaborate

s

with the robot to

determine

the relative position of the welding gun and groove

.

It

collect

s

and process

es

arc signals, correcting any deviations

from

the robot's planned path.
Easy-to-Use Welding Plugin




Han's Robot provides an easily installable and user-friendly welding plugin with a visual interface

,

facilitating

efficient human-machine interaction

and

enhancing production efficiency.
Furthermore, Han's Robot's Automated Welding Workstation is compatible with various welding machine systems, including MegMeet, Aotai, Miller, Lincoln, Binzel, Fronius, EWM, Lorch, Esab, Kemppi, Panasonic, OTC DAIHEN, etc. Most importantly, human-robot collaboration safety is the top priority for Han's Robot. The workstation has multiple safety functions, such as sensitive collision detection, emergency stops, and ensuring a secure working environment.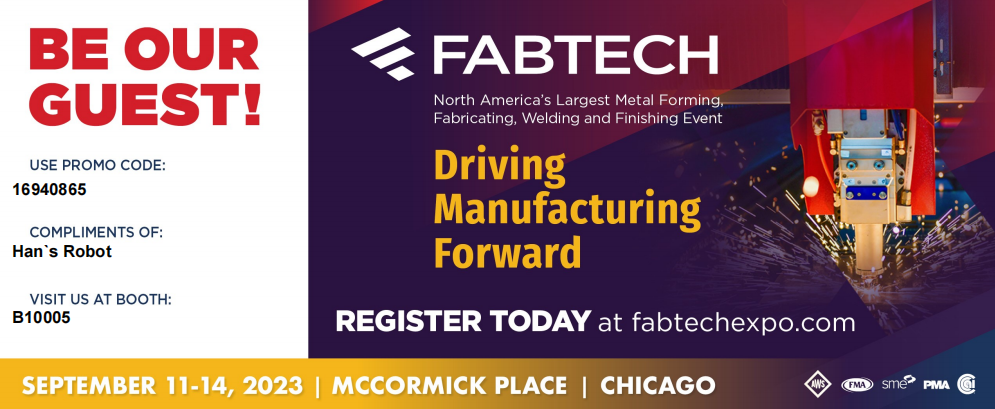 Han's Robot will showcase the Automated Welding Workstation at FABTECH 2023 in McCormick Place, Chicago, from September 11 to 14 (Booth No.: B10005). In addition, they will also exhibit High-Speed Handling Solutions, High-Precision Motion Platforms, CNC Loading and Unloading Applications, One-Stop Intelligent Palletizing Workstations, Elfin-Pro Cobots, and STAR Mobile Manipulator. Han's Robot sincerely welcomes you to come to booth #B10005 and explore the latest robot products and applications.